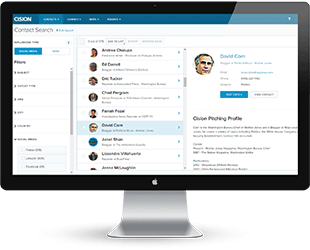 Cision - Build Media Lists. Distribute to Your Audience.
Leverage Cision to access the world's largest human curated global media database. Build hyper-relevant media lists and reach the right audiences with distribution powered by Canada Newswire, the world's leading distribution service.

Make intelligent, real-time decisions to orchestrate your communication strategy in a unified way across earned, paid, and owned channels. Identify influence that can propel your brand, craft integrated campaigns and attribute value back to your business.
Identify Influencers: Instantly gain access to nearly 1M influencer profiles. Simple, yet powerful, tools to build lists and view influencer profile data allow PR professionals to uncover which influencers reach their audience.
Craft Campaigns: Tear down communications silos by integrating all your data in one place; send emails to influencers, even manage social media and access Canada Newswire, the world's largest press release distribution network.
Attribute Value: Monitor message effectiveness across news channels and measure core metrics — including impressions, sentiment, prominence and impact.

Cision does more to power communications programs. See what it can do for you.